Helio-Matic® Solar Pool Heat Controller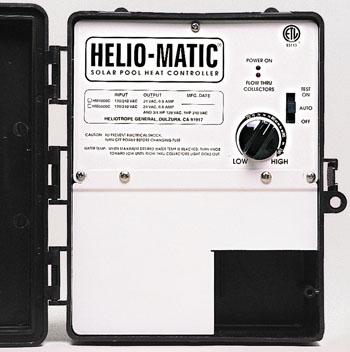 Efficient, economical, environmentally friendly solar energy, coupled with proven precision and reliability of the Helio-Matic® Control System - was the heating system selected for the pools at the U.S. Summer Olympic Games in Atlanta.
This same winning combination can insure that your pool's solar heating operates at peak efficiency -- easily, automatically, and oh, so enjoyably!
Not only will your pool water be warm and comfortable every time you dip a toe, this Olympic-level system is designed to extend your enjoyment of the entire swimming season by providing warm water even under less than ideal weather conditions.
Proven in thousands of installations, both residential and commercial, Heliotrope's reputation for and insistence on quality, down to the smallest system component, has resulted in unprecedented user satisfaction for over a quarter of a century.
Make the most of your pool's solar heating system. Make the choice of U.S. Olympic engineers -- The Helio-Matic® Control System for years of unsurpassed swimming pleasure.
And no one is more deserving of the best than you. By choosing solar heating for your pool, you are showing your concerns for our earth's resources, now, and for generations to come. Thank you.
Among the reasons the Helio-Matic® Controller was chosen for the U.S. Summer Olympics was ease of operation.
Basically, it's as simple as setting a thermostat. Simply set the desired water temperature on the Helio-Matic® Electronic Controller. Two precision sensors, one for the pool water, and one simulating the solar collector, signal the controller when climate conditions are right for the water to be heated. If the water temperature is not above the desired setting, the controller opens the Actuator Valve, sending water through the solar collectors, gathering warmth and returning to the pool. When the desired temperature is reached, the controller automatically closes the operating valve.
The "Mind and Muscle" of the Olympic Control System:
Helio-Matic® Electronic Controller
Valve output for 12 or 24 VAC valve without any need for adjustment.
Color-coded wire terminals to match actuator wire colors.
Ample interior wiring space without need to access electronics.
Calibrated control knob for precise maximum temperature.
Accurate, easy to install sensor for pool water temperature.
Aluminum block sensor for collector simulation. Does not need to be mounted on the collectors.
Lightning arc absorbers for sensors.
HM 5000 model for pump control and/or valve plus pump.
Extra UV protection enclosure for linger-lasting link-new appearance.
Models also available for pool sweep delay protection and isolated relay contacts.
Heliotrope Brings the Benefits of Solar Energy to You.
Solar energy uses the sun's rays to produce heat. Heliotrope provides the technology to harness our sun's natural energy in a cost-effective way to warm the water in your pool.
Heats your pool to a warm, comfortable temperature.
Is environment-friendly energy - free, from the sun.
Doubles your swim season with luxuriously warm water.
Dramatically reduces or eliminates pool heating costs.
Adds value to your pool and to your home.
Warranty
The Helio-Matic® Solar Pool Heat Controller carries a Heliotrope Pool ten year warranty.